About once a quarter we partner with a number of local diviners, clairvoyants, and mediums to raise money for the Dayton Pagan Coalition! DPC is the sole sponsor of the annual Dayton Pagan Pride event is this is one of our favorite fundraisers for the event.
We are expanding our reach by offering an online event. Our online event will also include a selection of vendors and healers. Proceeds are divided among the readers, healers and vendors, the DPC, and the cost of hosting the event.
This event is July 18, 2020
This event will be hosted on Zoom. Readers will be available the day of the event. And only live during the event. We will also have all of the information available on Facebook. This is a totally new technology for all us. As much as we'd love to see you all, we also want you to know that you can shop, get a reading and socialize in the Zoom groups that will be set up for the event, and be safe. We hope to see you there, learning as we are learning in this unusual time.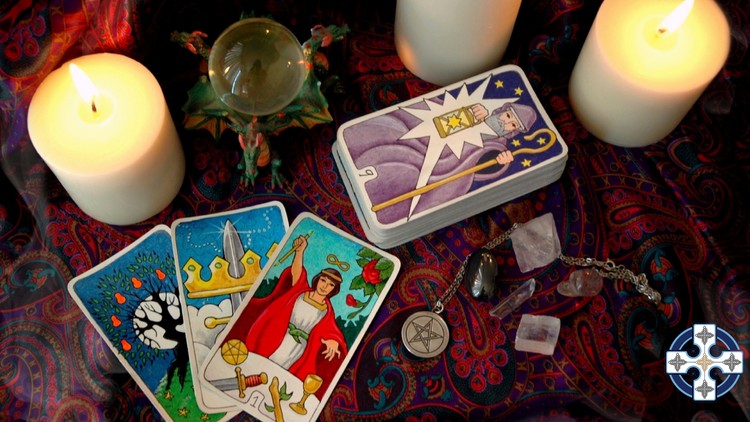 We Appreciate Our Readers:
Daile Rois: Head & Heart Tarot

Daile Rois has been offering Head & Heart psychic readings in the Tri-State area for the past twenty-five years. She has demonstrated skill with multiple divinatory tools: tarot, runes, gemstones, playing cards, etc. She has practiced her skills at psychic fairs, public venues, private readings and workshops. She has a reputation of being a knowledgeable, compassionate, ethical, and accurate reader.
Amanda Murphy: Cartomancy – Divination using playing cards

Amanda has been reading tarot cards professionally with NUG Lyfe Healing Soaps for only 2 years and is now rebranding her reading style and business into Hermit Tarot. Hermit tarot is devoted to developing an understanding of tarot as a useful healing tool for both the reader and the querent through dialogue and appreciation of personal symbols and feelings the card conveys for each individual.
Penelope Winter: Holistic Well-Being Reading

Penelope has been a Tarot Reader for over 10 years. She is a Psychic Medium and a Reiki practitioner.
Brian Morgan: Rune Reading

Brian Morgan has been a practitioner of runes and rune magick for 20 years. An artist and a mystic, he brings his wisdom to share among his readings. Click here to pay for your reading!
Shelley Leggett: Connecting with Spirit via Mediumship or Tarot Cards, your choice.

My name is Maria Leggett, but my nickname is Shelley which I prefer. I work tirelessly to serve Spirit by assisting my clients in the questions they have for their own personal journey. It is my personal mission to help bring a voice to those who have felt they were not afforded one. I receive divine guidance through my practices of meditation, reiki, shamanism, divination, tarot, aromatherapy, witchcraft and magick. I am a Reiki Master and psychic medium who is certified in aromatherapy and Melody Crystal Healing (TAOMCHI). I am also registered with the state of Ohio to perform weddings/handfastings. My services include mediumship, tarot card readings, past life ascension, chakra clearing and balancing, crystal reiki, power animal retrieval, power animal readings, home cleansings, blessings and weddings.
Luna Eclypse: Variety of Divination Techniques
Zoom Room:
Luna is a Wiccan priestess with an Associates of Ministry specializing in Norse Magick and a dedicant and priestess of Santa Muerte. Using divination and healing techniques like tarot, astrology, tea leaf readings, sacred flames reiki, chakra balancing using gemstones, and oracle card readings (like the popular Pokémon, clow cards, or magic the gathering oracle), she empowers people to live their best lives. She also handcrafts sacred or holistic products such as gemstone pendulums, charms, amulets and talismans, fixed candles, holistic wildcrafted self care products, and more! There is a Santa Muerte Botanica section of her website and she has a Patreon, courses, and workbooks for Santa Muerte magick and those that are seekers. Luna has studied the occult arts for close to 20 years and after offering her services for barter or trade for just shy of a decade, opened her business officially in 2012. She offers divination readings, spiritual and psychic healing of the body and energetic systems, as well as handcrafted charged items for aligning with spirit.
Maria Barrett: Tarot and Oracle Cards

Maria is the owner of Baba Yaga's Hut and has been reading cards since 1989. She seeks answers for her clients from a combination of intuitive guidance and messages from Spirit. She also holds public events based on The Wheel of the Year as well as workshops and classes on alternative spiritual techniques and practices.
To check out our vendors: Click Here!